El Salvador is the smallest country in Central America, with Guatemala to the west and Honduras its north and east. It is a land of abundant volcanoes, and it slopes from beautiful mountainous areas where coffee is the grown to long stretches of volcanic beaches. There is always a breath-taking sight to be seen, whether it be gorgeous mountaintop views, volcano peaks rising up to the sky, unique and colorful tropical flowers or black-sand beaches.
READ MORE
El Salvador experienced a civil war that lasted from the late 1970's until 1992 when a peace agreement was signed between the two dividing sides. Having a long history of dictators, each being overthrown and the cycle repeating, stability has been hard to find. There is a great divide between those who have and those who do not. El Salvador is a republic, with elections every five years, but it remains a country with corruption and prevalent crime. During the long civil war, many men fled the country to find safety and not be drafted by either of the two sides. It was common for boys even as young as 12 years of age to be called to war and never return home. This migration continued in the early 2000s when El Salvador suffered two devastating earthquakes within a month. This migration has continued until even today as men, boys and families have fled their gang-ridden towns and cities to avoid the pressure to join the gangs. They see leaving as their only hope. Girls often become sex slaves to gang members and young boys began collecting extortion fees as they move up the ranks. Fear is real. Statistics show that up to 80% of children live without a father figure in the home. A deep-seeded culture of machismo and the mass migration have left many families separated and struggling. Dysfunctional family life has left deep scars on its people.
In March of 2022, El Salvador experienced an extreme peak in homicides one weekend. The current President called the legislative branch of government together, and they voted to pass what was called "A State of Exception," lifting institutional rights from the people. This began an intensive search and arresting of gangs members. To date, over 70,000 people have been arrested and imprisoned. Many cheer this effort as towns have become safer, but constitutional rights have yet to be replaced.
There's much work to be done here in this small country, but God has called the founders of La Casa de mi Padre to focus on providing a loving family environment for the most vulnerable children who have suffered trauma, abuse, abandonment and/or neglect. These children have been removed from their family by the Child Protective System for a period of time, whether long term or short term. While at La Casa, the staff focuses on providing a safe place of love where hearts can heal. At the same time, we reach out to biological family to determine root causes for separation and intentionally work to bring about a healthy reconnection and reunification whenever possible and safe to do so. We are accredited and supervised by the Salvadoran government.We are a debt-free non-profit and rely on the generous gifts of donors who wish to partner with us. We seek to use the resources we have and are given with integrity to honor God.
"This isn't just a charity helping the needy. It isn't just our passion. It isn't just a home for children. It's not an institute, it's THEIR home. God created us all, and loves these children just as much as He loves our children. Why has He blessed us so abundantly? Possibly, it is so that we in turn can be a blessing to others. We wanted to do something to change their lives and ours were changed as well."
Since 2002, La Casa de mi Padre Foundation has provided integral support to at-risk children and adolescents in El Salvador. La Casa de mi Padre began when the founders met more than 50 girls and boys who lived in an old, abandoned house that was about to collapse. The poor conditions in the home grew a desire to support the children and adolescents to have access to appropriate care, and the founders began to work with ISNA to help guide the process of forming a legal identity.
READ MORE
In the beginning, the program was designed primarily to meet the children's basic needs that included care, protection and education. However, it was discovered that the initial concept of the program did not meet the deep need for healing of traumatic pasts and the opportunity to remain connected with healthy biological family members. Considering the difficult reality of the backgrounds of the children and adolescents served: victims of abuse, abandonment and addictions as a result of dysfunctional patterns that have been reproduced in their families for generations; it was evident that a deeper need existed. Over time, the foundation has tried to guarantee the rights of children and adolescents, providing an environment that gives them the security to develop and reach their full potential and become agents of change in their homes and communities.
In 2006, the current Therapeutic Program was adopted as a proposal for a solution to promote a re-learning of the true value of the family and its important role in the well being of every child and adolescent. This process of change included separating the girls and boys into two separate homes in order to provide better attention to each group according to their specific needs, transforming gender stereotypes rooted in our culture and enhancing the understanding and empowerment of both groups. A family managed each home, playing the role of father and mother for the children placed under their care while modeling how a healthy family functions. In addition, essential support was placed around the home to ensure the integral development of each child and adolescence, including intentionally attending to each child and adolescent's psychological needs. Likewise, the Family Restoration component was initiated in order to preserve, improve, strengthen and restore family ties as established by LEPINA, Child Right Act in El Salvador, in such a way that there is more frequent contact with families through home visits, phone calls, and family visits in La Casa de mi Padre which include an education piece and psychological care. These contacts with the family continue to be used to work with each family in overcoming the cause of the Institutional placement with the hopes of a future reintegration or family placement, thus ensuring the right of every child and adolescent to be raised in his or her family if at all possible and in their best interest.
As of November 2015, La Casa de mi Padre moved to its current location in the facilities of Finca el Milagro. Houseparents now live in a home with a group of 6 to 8 children along with their own biological children. An intensive support network is placed around each home to continue to ensure that the home functions in a healthy manner conducive to healing and restoring the child and family relationships. We have been able to see dramatic changes in behavior, school performance and emotional health in the lives of the children and adolescents as a result of experiencing a loving family environment.
In 2017 we open our third home thanks to the support of FEDECREDITO and MaestroCares Foundation. This home gives us the ability to serve 8 more girls. By 2017 we have three homes, Grace Home, Hope Home and Joy Home.
In 2021, after experiencing a very disrupted 2021 school year due to schools going to all online learning due to COVID and all of the implications that brought, we learned that children need consistency to best be able to heal from trauma that is why we began our on-site education. We have hired a team of professional tutors who provide on site instruction according to the individual needs of each child under supervision of a local school.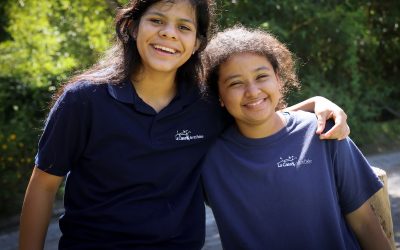 Today is Giving Tuesday, a day where we are encouraged to join together and make a difference around this world. It is a day to show radical generosity!
read more
Who are we?
La Casa de mi Padre is a Christian children's home serving children who have been taken out of their families due to abuse, neglect and/or abandonment through the court system.
Why a Family Setting?
With the disintegration of the family and the high absence of a father figure in the lives of the children we serve, we value modeling a family atmosphere. The children live in homes where a houseparent couple embrace a small group of six to eight children for the period of time the courts deem necessary.
How do We Work?
We work intentionally to provide a holistic approach to meet the physical, emotional, academic and spiritual needs of the children.
Health and Nutrition: We partner with physicians, dentists, psychiatrists, neurologists and nutritionists to ensure that our children receive the proper health care they need to grow and develop.
Counseling: We provide Christ-centered individual and group counseling for the children and their families to heal deep wounds in their hearts.
Academic: Children come to us with varying educational backgrounds, some never have been to school. We provide on-site education that supports each child's needs to be successful and reach their full potential.
We believe that the health of our staff greatly impacts the care for the children. Our staff receive consistent, ongoing training which focuses on trauma informed care to be able to better approach day-to-day situations with the children. We also set in place self-care routines to ensure proper mental health.
Why Work with Families?
The children we serve come to us with a deep desire in their hearts for reunification with their biological family. We reach out to family members of the children in a very intentional way to build a bridge for healthy connections. Our social workers and psychologists make home visits to build trust, create a plan of intervention that addresses the root causes of separation, build a support network around the family in their local communities, and to provide counseling and parental care education. Our children are able to make connection with family as it is appropriate and learn new ways of relating, first through family visitation times in our facilities and then return visits home. Our hope is that cycles that have been carried from one generation to the next can be broken.
What Happens if a Child Ages Out of Care?
Children exit the children's home once they reach the age of 18, but we have experienced that young adults need support as they transition to independent living. We provide a program we call "The Bridge", where young adults may live while they complete high school and move on to university or vocational training. We desire that each young adult moves into independence with the skill set, education and heart change to be agents of change wherever they choose to live and work.
SUBSCRIBE TO OUR NEWSLETTER
SUBSCRIBE TO OUR NEWSLETTER